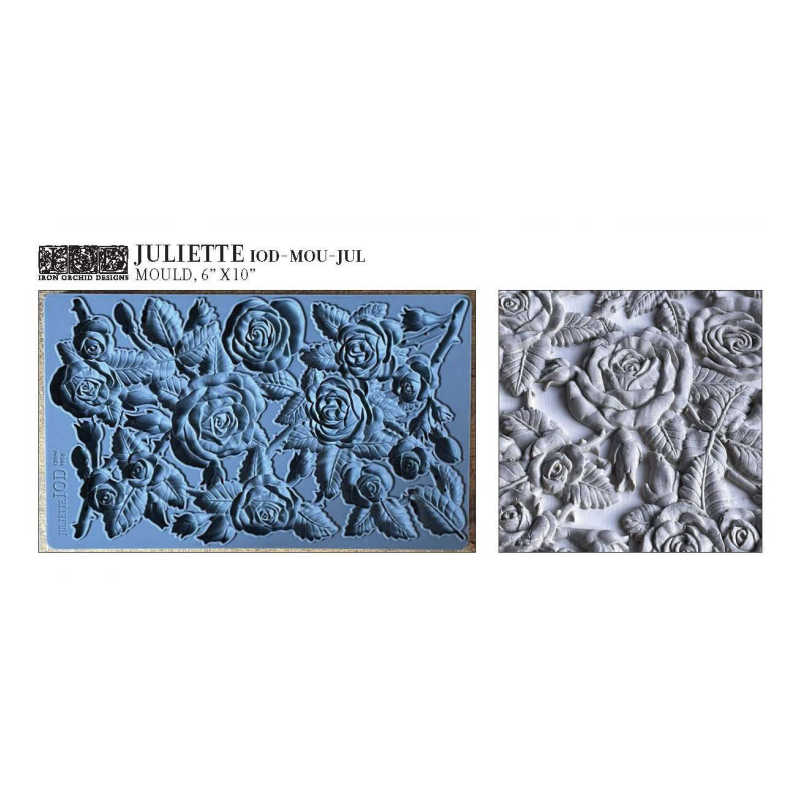 Juliette IOD Decor Mould (6″X10″)
Regular price $39.99 Sale
Juliette by IOD Iron Orchid Designs to cast for your projects. Use to embellish furniture, crafts, make jewelry, soaps, candles, and be creative with your baking, cooking and candy making. Made of Silicone with the Micro rim and measurements to help you get a flat back.
This package contains one 10" x 6" silicone mould.
Unique to this food-safe silicone mold, we created designs that allow you to seamlessly connect between castings.
IOD moulds are lovingly created, finely detailed, and made of super durable silicone. They can be used for all kinds of 'do-it-yourself' projects, including home decor, painted furniture makeovers, jewelry making, resin art, cookie and cake decoration, and sugar arts.
Remember, not only can IOD moulds be used on furniture makeovers and upcycle projects, but also in soap and jewelry making and food decorating (think cookie dough, fondant, and pie crusts, oh, my!). We made a few improvements to the new IOD Trimmings 3 Mould.
We've also started adding measurement marks to all our moulds. There are several ways you can use them – with resin or in sugar arts… but also with clay!
Now even larger, and made from high quality, food-grade silicone, your moulds will bring you joy in your creations for years to come.
• Food grade silicone. Hello baker mamas, sugar mavens, cookie crazies
and those that wanna be all of the above. Ah hem…. me. These are for you,
because now everyone gets to look like a pro!
• Great for mixed media
• Jewelry makers
• The most beautifully detailed moulds on the market!
• Use with a bazillions of mediums. Don't hold me to that, I didn't actually
count, but heck just to start you off: paper clay, cast resin, clay, sugar
paste, hot glue, fondant…. BE SURE TO USE SEPERATE MOULDS FOR
YOUR EDIBLES AND CRAFTS!
Prices do not include shipping, please contact store to arrange for pick-up or delivery.